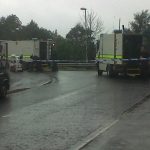 A security alert in the Gobnascale area of Derry has ended, with a suspicious object declared to be an elaborate hoax.
It was trhe fourth alert in the area in less than 24 hours.
There were three hoax bomb alerts overnight in the same area. Army bomb disposal experts examined suspicious objects in all four cases.
Meanwhile, a separate alert at Hollymount Park in the city continues this afternoon, with part of Trench Road sealed off, leading to some traffic disruption in the area.