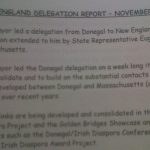 Donegal County Council has claimed that a recent trip to New England by a Council delegation was hugely beneficial.
Mayor Ian McGarvey was joined by County Manager Seamus Neely, the Council's Director of Community, Culture and Planning, Michael Heany and Cllr Noel McBride earlier this month.
Flights and accommodation for the week long trip were funded by the taxpayer.
But the Council has released a detailed itinerary to council members today that they say shows the trip was essential to build and maintain contacts with Massachusetts.
Mayor Ian McGarvey says he has no doubt it was worthwhile, and he would pay himself next time if necessary:

The report in full can be accessed by clicking THIS link.
Podcast: Play in new window | Download