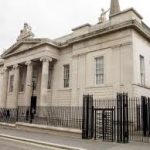 Derry Crown Court was told today how a Belfast man told police he had been pressurised by loyalist paramilitaries to go to a car park in Letterkenny to pick up a large quantity of cannabis.
Francis Milliken of 21, Stormont Street in Belfast pleaded guilty to possessing cannabis with intent to supply on December 4 last year.
The 38 year old also admitted a charge of being involved in the fraudulent import of Class B drugs on the same date.
A defence barrister, Mr. Joe Brolly, told the court there were several points that he wanted to make.
He said that Milliken was clear his role was that of a courier and that it was a 'one off incident'.
Mr. Brolly said that Milliken had claimed that he was subjected to pressure from loyalist paramilitaries although that pressure fell short 'of the high standard needed to prove duress.'
The barrister said that there had been no financial reward for Milliken and that he had 'no trappings, no car, no money' and that he had done it in order to be allowed back to his home.
As regards the importation charge the barrister said it was a 'technical importation' as he had gone to Letterkenny to pick the drugs up in a car park.
A pre-sentence report was ordered and Milliken was released on continuing bail and will be sentenced on January 13.