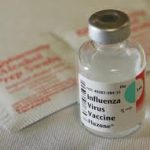 Almost 60 per cent of staff working in residential facilities for the elderly in Co Donegal have never had a flu vaccine, according to research carried out by a public health consultant in the county.
The most popular reason for not availing of the vaccine was that staff believed they didn't need it, but over half of those surveyed said they were concerned about side effects.
A study carried out by Dr Louise Doherty, a Donegal-based consultant in public health medicine, found 57 per cent of staff, employed at 20 nursing homes in the county, have never been vaccinated against the flu.
The issue was highlighted last year when seven elderly residents died at Nazareth House in Fahan during a flu outbreak that affected 35 of the facility's 46 residents. Only 9 per cent of the staff at Nazareth House had the flu vaccine, but Dr Doherty is stressing that the source of this outbreak had never been identified.
According to the Irish Times, the research found the average uptake of the vaccine among staff in the 20 residential facilities surveyed was 21 per cent in 2012/2013 – above the national average of just 15 per cent.
Despite constant reassurance from the authorities, the research confirmed widespread concerns among healthcare staff about the safety of the vaccine, with over 60 per cent of respondents worried about the side effects.