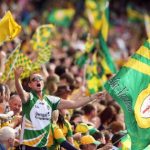 Senior Inter County Football will return to Letterkenny at the start of the year.
The O'Donnell Park will host the Donegal Tyrone Dr Kenna Cup fixture on Sunday 5th January.
It will be the first time since the league match with Laois two years ago that a senior Donegal football fixture will be played at the St Eunan's venue.