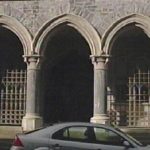 A 30 year old man will appear in court in Sligo this morning charged in relation to the barricaded incident over the weekend.
He was arrested at a house on the Strandhill Road on Saturday afternoon at around 1:30pm following an armed standoff.
At around half past 12 on Friday night Gardai in Sligo were called to an incident at a house two miles outside the town on the Strandhill Rd locally known as Scardenmore.
A man had barricaded himself into the house – which is believed to be the family home – with a gun.
He discharged the firearm in the direction of Gardai and a critical incident was established.
Special units attended the scene including trained negotiators and nobody was injured.
Armed gardai returned fire during the 13 hour siege before arresting a man at the scene.
The man will appear at a special sitting of Sligo District Court at 10:30 this morning.