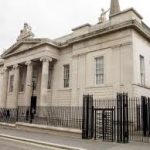 A Derry man whose brother was shot dead in the city in October was warned today that if he did not cease offending he would go straight to jail.
Daniel McCrory (26) of 19b Harvey Street in the city admitted his sixth offence of being disorderly in Altnagelvin Hospital.
The court was told that on August 6 police were called to Cornshell Fields in Derry after reports from ambulance staff that a man had cut his wrists but was being violent towards paramedics.
Police arrived and McCrory was bleeding profusely but continued to be aggressive towards police and paramedics.
Eventually he was brought to the A&E department at the hospital but shouted abuse at staff and police and caused distress to others in the department.
Finally staff there said they would not treat McCrory and he was taken to the police station.
The court also heard that McCrory had been arrested for breaching bail on October 1 and had become aggressive with civilian staff trying to bite one of them on the leg.
Defence solicitor Mr. Michael Magee said that the death of his brother in October had had a 'traumatic effect' on McCrory.
District Judge Barney McElholm said that McCrory blamed everyone but himself for his offending and he told him it was time he 'grew up and started taking responsibility.'
He deferred sentence until July 4 and warned McCrory not to re-offend.
He was also ordered to pay £250 in compensation to the Friends of Altnagelvin Hospital.