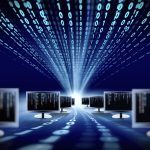 20,000 new gadgets are being shown off at a huge technology fair in Las Vegas.
Curved TVs and phones have been making a big impression – along with a set of smart glasses from Epson.
There is also a string of internet-connected device like a washing machine you can text to find out how it is getting on.
Stuart Miles is from gadget website Pocketlint.
"Whether any of them will actually catch the imagination and be bought and become mainstream is another thing coming" he said.
"It's a very, very young market" he added.