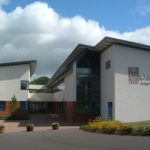 Police used CS spray during the arrest of a 14-year-old boy at a school in Derry.
An independent investigation has been launched into the incident at Oakgrove Integrated College on Tuesday afternoon.
The teenager was released on bail pending further inquiries, a PSNI spokesman said.
The spray is generally used by officers to control aggressors in situations where lethal force is inappropriate.
It can cause a burning sensation.
Figures on the PSNI's use of the substance noted 479 cases in 2008/9, including 28 involving members of the public aged 17 and under.
Police Ombudsman for Northern Ireland Dr Michael Maguire investigates police behaviour, although usually following a complaint.
His spokesman said that the Police Ombudsman has decided to call himself in because he believes that this incident merits an independent investigation.