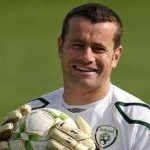 Shay Given's prospects of a return to the international fold looks stronger than ever.
Roy Keane will travel to Middlesboro tomorrow to check on Given's progress and according to press reports today the Irish management are strongly considering an international recall for the player.
Given retired from Irish duty after the 2012 Euro's but then hinted that he was willing to come back after falling out of favour at Aston Villa.
Since his loan move to Middlesboro, Given has been in excellent form and both he and Martin O'Neill have suggested they would be open to chat about his future.