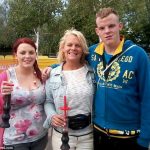 The mother of a Donegal man who tragically died after taking legal highs in the UK, hopes a new website set up in her sons memory will help raise awareness about their dangers.
20-year-old Jimmy Guichard suffered a heart attack and brain damage after taking legal highs bought from a headshop in Kent last October.
His mother Karen Audino said that no parent or family should have to go through the same pain she did, and hopes the website will help pressure the British Government to change the laws on legal highs.
On Wednesday a British MP called for a review of the status of legal highs in the UK.
Home Office Minister Norman Baker warned: "People think they are safe and legal when they may not be."
The website in memory of Jimmy  is set to be launched on Monday.