A Strabane councillor says if there is evidence that people from Strabane are behind a spate of crime in Castlefinn and Lifford, then the gardai should be approached.
Commenting on a number of recent break-ins in the Castlefinn area, local Sinn Fein Cllr Gary Doherty contrasted the large police presence in Strabane with what he termed the scarcity of gardai in East Donegal, and particularly the lack of a full time garda presence in Castlefinn.
However, Strabane SDLP Cllr Patsy Kelly says the inference of Cllr Doherty's comments is that the crimes are being carried out by people from Strabane………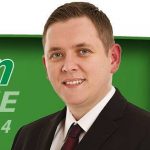 Cllr Doherty says his comments are being misinterpreted, and he is by no means blaming the people of Strabane for crime in Donegal.
He stands by what he said, and believes his central point is a valid one…………
Podcast: Play in new window | Download