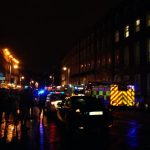 Gardai are to carry out a review of queuing arrangements outside Dublin nightclubs after an 18 year old Donegal student was injured in a crush outside Copper Face Jacks on Monday night.
Niamh Cannon from Letterkenny was one of 15 hundred young people attempting to get into the nightclub. Her condition has improved, and she is now in a stable condition at St James's hospital.
Gardai said the crowd was well behaved but that different groups converged on Camden Place and Harcourt Street at the same time and this led to a surge.
Meanwhile Alcohol Action Ireland is calling for an end to cheap drink promotions such as the 'Messy Mondays' event being hosted at the club on Monday night.
Its Spokesperson is Connor Cullen………….

Podcast: Play in new window | Download