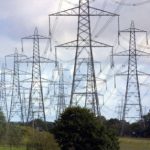 The Chairperson of a group appointed to look at Ireland's options for new electricity networks is pledging to take a 'cool, unbiased' look at the options involved.
The government announced yesterday the group would look at reports from EirGrid on the various underground and overground options for the infrastructure.
It could delay the planning process for the controversial project by around 18 months.
Former Supreme Court Judge Catherine McGuinness is heading up the review panel. She says they will be working on the best option for the country.
"We will have a very cool and unbiased look at all that is involved in this, in order to try and reach a decision for what is best for both ordinary people and for the country in general" she said.
"The people who are appointed with me are also very open-minded people, and people who aren't easily pushed around – if I may say so" she said
Eirgrid has also welcomed the news of the review panel being set up by the government.
Chief Executive Fintan Slye says although the infrastructure is urgently needed, they will be worth the wait.
"Obviously the longer these projects are delayed, it places the transmission system at more risk" he said.
"It limits our ability to connect new generation on to the system, it means that bottlenecks will continue to exist on the system".
"But these are long-term projects – there wasn't any plan to go into planning on the next number of months on any of them" he added.