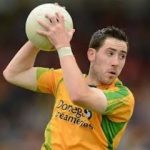 Donegal Manager Jim Mc Guinness has named his team for Sunday's National Footbal League Division 2 opener with Laois at O'Moore Park.
Frank Mc Glynn and Karl Lacey have both recovered to start in the defence in Portlaoise while Ryan and Mark Mc Hugh  will start in a Donegal shirt for the first time this year.
Ryan's named at corner full back while Mark is selected to wear number 10.
Martin Mc Elhinney also returns to line out in midfield with Rory Kavanagh and Darach O'Connor and Ordhan Mc Niallais start after playing well through the Dr Kenna Cup.
Patrick Mc Brearty is named among the bench.
The full line up is
1 Paul Durcan
2 Karl Lacy 3 Neil McGee 4 Ryan McHugh
5 Frank McGlynn 6 Leo McLoone 7 Anthony Thompson
8 Rory Kavanagh 9 Martin McElhinney
10 Mark McHugh 11 Dermot Molloy 12 Odhrán Mac Niallais
13 Colm McFadden 14 Michael Murphy (Captain) 15 Darrach O'Connor
16 Michael Boyle 17 Chrisy Toye 18 Declan Walsh 19 Éamonn Doherty 20 Gary Mc Fadden
21 Hugh McFadden 22 Leon Thompson 23 Luke Keaney 24 Martin O'Reilly 25 Matthew Smyth
26 Patrick McBrearty

There will be live commentary  from Laois v Donegal this Sunday on Highland Radio from 1.50pm with Oisin Kelly and Martin Mc Hugh.