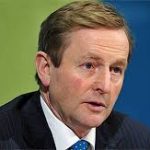 The Taoiseach has indicated the health watchdog HIQA may be asked to carry out an inquiry into the deaths of a number of babies at the Midland Regional Hospital in Portlaoise.
The parents of one of the babies who died 22 minutes after his birth at the hospital two years ago will today meet with TDs at Leinster House and ask for an independent inquiry.
Enda Kenny says he will be briefed by the Health Minister on the matter this morning, but suggested an independent inquiry could be on the cards.
"There needs to be decisiveness and clarity for all mothers and expectant mothers about the safety of the Irish maternity system" he said.
"Clearly, the inefficiencies pointed out in the system that applied in Portlaoise have got to be addressed".
"The Minister has asked for an immediate report from his chief medical officer, and the possibility of an inquiry by independent HIQA afterwards" he added.