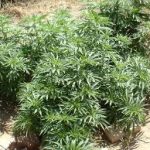 Gardai have indicted that the Drugs Unit in Donegal remains an active and important element of policing in the county.
Concerns had been expressed that the unit was being cut back, with a very real prospect of abolition. However, after a number of court convictions this week, sources within the unit have said that is not the case.
In January 2010, members of the Donegal Drugs Unit raided a cannabis growhouse at Kildrum Lower, Carrigans. 1,130 plants were seized, with an estimated value at the time of 452,000 euro.
This week at Letterkenny Circuit Court, three men were convicted of the cultivation and possesion of cannabis for sale and supply.
33 year old Brian Irwin and 34 year old Neil Stewart Closs, both from Tipperary were fined 2,000 euro and sentenced to six years imprisonment, suspended for six years.
38 year old Neville Leach from Drogheda was also fined 2000 euro and given a 2 years suspended sentence.
Also this week, 28 year old Polish native Darius Kot pleaded guilty on two counts of possesion of drugs with intent to supply after a raid on his home at 65 Hawthorn Heights, Letterkenny in July 2012.
That search yielded 5,500 euro worth of cannabis herb and 400 euro worth of amphetamines aliong with
drug paraphenalia.
He was sentenced to two years in prison, one suspended on the cannabis charge, and two years, both suspended on the amphetamine charge. He was also given 240 hours community service.