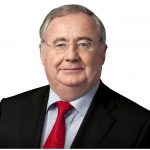 The Communications Minister says he plans to amend the law which currently bans broadcasters from carrying material which can cause offence.
Pat Rabbitte wants to change Section 39 of the Broadcasting Act so that only undue offence is banned – giving broadcasters a stronger right to discuss contentious topics.
It comes after RTE paid out over 85,000 euro last week to six individuals following comments made on homophobia by the gay activist Rory O'Neill on the Saturday Night Show.
When asked about it this morning Minister Rabbitte was reluctant to say whether a change in the law would have made any difference in that incident.
"Well I don't think that I should get into the business of second-guessing; I mean there are a whole range of issues that come into that" he said.
"If I'm being attacked and I'm not in the studio, you're reasonably  expected to say 'well hold on a minute now, maybe he wouldn't agree with that – or how do you justify that'".
"There are a lot of things in the incident that happened that might have been done differently – but…what has happened has happened" he added.