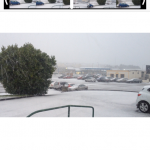 Update 6.45 –
A lorry has become stuck at Mc Grory's Brae on the Donegal Town side of Ballybofey, and the road is impassable at present.
Traffic is asked to avoid the area.
———————————
Donegal County Council is urging all motorists to take extra care on the roads as showers of sleet, snow, rain and hail are forecast to continue for the rest of this evening and into tomorrow.
It is expected that temperatures will fall close to zero tonight, and there is a high risk of icy roads in most parts of the county.
All 23 of the Councils gritters have been deployed since early this morning and will continue to be deployed on all routes throughout the rest of the day and into the night.
A number of roads are in a treacherous condition, with gardai saying they are particularly concerned about the road between Kilross Junction and Stranorlar, which they say is in a treacherous state.
The council says whilst every effort will be made to keep roads clear, they cannot guarantee ice free roads and are urging all motorists to take extra care.
A map detailing all the gritting routes in the county can be seen on the council's website www.donegal.ie.