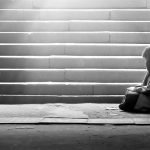 The problem of homelessness in Donegal was highlighted during a meeting of Letterkenny Town Council this week.
The council's monthly meeting was briefly interrupted by a man who said he was homeless and unable to get accommodation.
The man, who is in his 40s, entered the chamber of Letterkenny Town Council during this weeks meeting – he said that he had no option but to sleep out in a tent and appeared to be seeking help.
The man was asked to leave the council chamber and told that he would be spoken to at the conclusion of the meeting.
After he left, there appeared to be some laughing and joking in the council chamber.
The man, who admits he has a drink problem, was praising of local homeless hostel services but said that he was no longer welcome because they are 'dry'.
He said that as a result he was forced to sleep in a tent on waste ground in Letterkenny in sub zero temperatures on snow covered ground.
The man said he was upset that as an Irishman he had now rights and had fallen between the cracks of the system and couldn't get help.
The man did wait for a time as the meeting continued, but had left the premises by the time it had concluded.