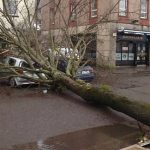 More than 2,000 ESB engineers are working to restore power to 190,000 homes and businesses who are without power around the country.
The crews are being assisted by staff  from Northern Ireland Electricity.
However ESB is warning it will be late into this evening before supply is restored to most areas and a large number of customers will still be without power tonight.
Mike Fitzgerald of ESB Networks says the areas worst affected are in the south and west where parts of the network will have to be completely rebuilt.
"We have all resources at this stage in the field which involves approximately 2,000 of our own staff, supplemented with our colleagues from NIE and from contractors" he said.
"So all resources are being deployed; staff from less-affected areas of the country are moving down to those worst-affected areas".
"So everything is being done to connect our customers as soon as possible" he added.