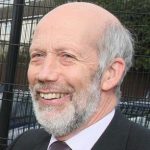 The North's Justice Minister has praised the work being done by the Omagh Street Safe project, after attending a training session with volunteers this week.
The project offers support to those who may be vulnerable while socialising in Omagh town centre on Saturday nights, and is being extended to Friday nights from tonight.
Minister David Ford travelled to Omagh this week to meet some of the Street Safe volunteers at a training event on alcohol and drug awareness.
Praising the initiative, the minister the volunteers' assistance to those on a night out, not only benefits those individuals who require their help, but their presence undoubtedly provides wider reassurance to the community and supports the very important night time economy in the town."
He said it is particularly gratifying that some of the funding for the project has come from the Assets Recovery Community Scheme, which distributes funding from assets seized from criminals.
At present there are 57 trained volunteers who have all undergone training in personal safety, first aid, de-escalation techniques and dealing with difficult situations.
Since November of last year, the Omagh Street Safe project operates outside the Public Services Centre in the town's High Street on Saturday nights from 11am to 3.00am, and that is being extended to include Friday nights, from tonight.