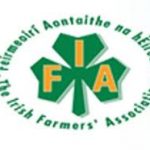 The IFA is urging the Agriculture Minister to process environmental and weather related payments to farmers as quickly as possible.
The association's Donegal Chair PJ Mc Monagle says the extreme weather since the start of the year, coupled with the start of the lambing and calving season, is making conditions for farm families around the country very difficult.
He says the saturated land means that all livestock have to be housed for some time yet, and there is an inevitable increase in workload and costs as a result.
PJ Mc Monagle says while other parts of the country have had a more difficult time than Donegal, there are significant pressures on farmers here………….

Podcast: Play in new window | Download