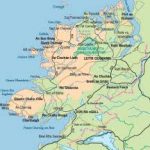 The Golden Eagle Trust is expressing concern about the future of rural Donegal following the publication by Teagasc of a major analysis of census figures.
The figures were published as a Department of Agriculture review of its Rural Development Programme copmes to a close, with tomorrow the closing date for submissions.
The programme will dictate the level of Agri-Environment payments given to small farmers in Donegal over the next 7 years and the level of LEADER type funding available for local projects, with Lorcan O'Toole of the Golden Eagle Trust saying the Teagasc report highlights some serious inequalities which should be highlighted in the forthcoming local election campaign.
With the Donegal Local Elections just over 10 weeks away, the Golden Eagle Trust is asking all prospective election candidates to look closely at the detail behind national Rural Development Policy and consider their impacts on Rural Donegal in particular.
Spokesperson Lorcan O'Toole says there has been very little debate locally, and he fears there is a lack of awareness of the apparent pressure on the future available income for Donegal's small farmers and its consequences on nearby communities.
Among the issues identified by Teagasc are very high unemployment, a declining population, a high level of school leaving before the age of 17 and a very high level of unviable farms.
The trust has submitted a draft motion to each of the four parties on Donegal County Council, asking them to consider passing a resolution requesting that the Department of Agriculture have due regard for the unique circumstances pertaining to rural Donegal.