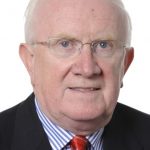 North West MEP Pat the Cope Gallagher says the government's decision not to apply for EU Solidarity Funding in the wake of the extreme weather is "ludicrous and rash".
Mr Gallagher has today called on the Government to re-think its decision and apply before the end of this week as the deadline set by the European Commission is Friday.
The Government has stated that the expense of the damage incurred is below the threshold for assistance, but Pat the Cope Gallagher says that was also the case in 2009, when the government succeeded in getting some very important emergency funds……..

Podcast: Play in new window | Download