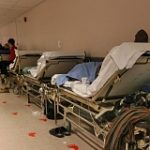 Figures from the Irish Nurses and Midwives association show 27 people without beds at Letterkenny General Hospital this morning.
According to the figures, 12 patients are on trolleys while a further 15 are in wards.
Last week the HSE asked the public to stay away from the  Emergency Department at Letterkenny General Hospital unless absolutely necessary.
The HSE said the hospital is taking steps to deal with the situation and the measures being put in place include the deferral of most elective surgery, opening of all available wards for patient care, the use of day services unit for inpatient care.