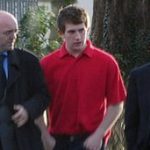 The mother of a Tyrone teenager accused of murdering his father says her son had tried to strangle her three months earlier.
Sean Hackett, the 19-year-old former captain of Tyrone's minor Gaelic football team, admits shooting his father dead in January 2013 – but he's pleaded not guilty to murder.
Aloysius 'Wishie' Hackett was shot twice in the head at the rear of his home on near Augher.
Today the trial heard from the accused's mother, Eilish Hackett.
She said that several months prior to the killing her son had become emotionally fragile after he broke up with his girlfriend.
She then described an incident in October 2012 when her son lured her into the garage at the family home and tried to strangle her.
"A lead was thrown over my head and round my neck."
She struggled free and removed the lead, then asked her son why he'd wanted to kill her.
"He told me, 'If you're in heaven with my grandfather you can look after me better there."
She said there was no reason for son to try to kill her.
After this incident, Sean Hackett visited a GP with his mother. He was not given medication, but counselling was recommended.
Just three months after the attack on his mother, Sean Hackett shot his father dead.
He was granted compassionate temporary parole to attend his father's funeral.
The jury was told Sean Hackett wrote a letter to be read out at the requiem Mass. Addressed to "my special Daddy", the letter describes his father as his role model, manager and inspirational figure.
The court was told that Sean Hackett and his father were very close and often attended Gaelic football matches where Mr Hackett would watch his son play for his local Augher club and for Tyrone's minor team.
The 60-year-old father of four had just returned from a meeting at the Augher club when he was killed.
The trial continues.