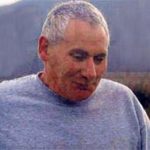 A silver revolver owned by paedophile Michael Ferry is to be destroyed despite earlier claims that a museum would be interested in it because of its historic value.
   
Gardai were given permission at Glenties District Court today to destroy the gun.
They already had permission from the Glenties January Court to 868 other items, mostly porn CDs and DVDs owned by Ferry who is serving 14 years for a series of sex offences.
Patsy Gallagher, solicitor for 58-year-old Ferry, said during all the trials of sex offences against Ferry there was never any indication that the fire-arm was used.
He said Ferry, however, had no objection to the Garda application to have it destroyed.
That contrasted with a suggestion by Mr Gallagher at the January hearing that the gun, which dated from the War of Independence, could be donated to a museum.
Ferry's address was given as c/o Arbour Hill Prison, where sex offenders are held – his home address is Carrickboyle, Gweedore.
He is serving 14 years for raping and sexually assaulting five boys when they were aged between 10 and 17 at a school in Derrybeg, Co. Donegal and near his home. The offences were committed between 1984 and2005.
Ferry, a former student priest, religious teacher and school caretaker, was jailed in 2011 for offences against four of the boys and last December for offences against the fifth boy.
He is due out of prison in late 2021.