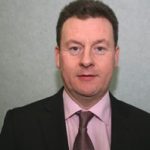 County Manager Seamus Neeley says the impact of the abolition of Town Councils and the subsequent expansion of the County Council will not be as sever in Donegal as in other areas.
As a result of the changes, 37 members will be elected onto the county council in May, an increase of eight.
The council will also be restructured to allow for the creation of Municipal Districts in each electoral area.
In tandem with that, Mr Neeley says there are significant changes in the council's development remit, and this is creating a substantial amount of extra work………….

Podcast: Play in new window | Download