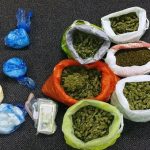 Two men have appeared at Derry Magistrate's Court in connection with the finding of £150,000 worth of drugs in the city on Tuesday.
William Duncan (68) of Moore Street and Paul Rodgers (50) of Stoneypath both in the city faced a total of 8 charges each.
They were charged with possessing cannabis with intent to supply, possessing amphetamines with intent, possession of both drugs, being concerned in the supply of drugs and possessing criminal property and concealing criminal property.
All the charges were said to have occurred on February 25.
A Constable Lisa Daly connected both men to the charges.
She opposed bail and said that police searched a house in Moore Street and found approximately 6.4 kilos of amphetamines and 4.5 kilos of cannabis as well as a sum of money.
No one was in the house at the time but Duncan arrived during the search after being left off by Rodgers.
The officer said there was documentation in the house connecting both men to the premises.
Duncan told police he was looking after the drugs for someone and that he was not concerned in the supply.
A follow up search of Rodger's house uncovered £6,500 in cash.
Constable Daly said that Duncan admitted having the drugs since Christmas but refused to provide details of who supplied them.
The officer said that there was some numbers written on one of the bags of drugs and Rodgers was asked for a handwriting sample and refused.
Bail was opposed in Duncans' case as the officer said he had no connections to the area and had travelled extensively having a girlfriend in Sierra Leone.
She added that he had a conviction for drug offences in France after claiming he had been given a suitcase by some Nigerians which was found to contain amphetamines.
She said that Rodgers had no convictions for drugs.
The officer said that this was part of 'an organised drug gang' and the street value was around £150,000.
Bail was refused in both cases and District Judge Barney McElholm said that if Rodgers provided a handwriting sample and it was shown it had no connection to the handwriting on the drugs the court might take another attitude.
Both men will appear again on March 27.