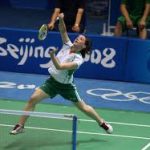 One of the biggest events in world badminton gets started in Birmingham today.

 The All England Championships, widely regarded as the "Wimbledon" of the sport, begins with the qualifying rounds.

Irish No 1 Chloe Magee  faces a tough draw in the qualification today.

Donegal Olympian Magee, currently world ranked 44, will fancy her chances against Saili Rane of India in the opening round.

 If she wins, she is  likely to face a much tougher opponent in the form of the Bulgarian Linda Zec hiri, currently world ranked 35.

Even tougher is the draw for the mixed doubles, although Magee and brother Sam are seeded at No 4, with four places on offer in the main draw.

In their opening match they face Jorrit de Ruiter and Samantha Barning of the  Netherlands, who beat them in straight sets at last year's World Championships.