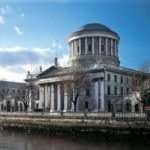 A seven-year-old Donegal girl left with cerebral palsy is to receive an interim €1.45m after her mother sued the HSE, on her child's behalf, for the care she received during her pregnancy.
The High Court heard how Ruby Leanne McCandless has diskinetic cerebral palsy and will need care for the rest of her life.
The court was told that Ruby's mother, Christina McDaid had high blood pressure at the end of her pregnancy and should have been referred from a community hospital to a general hospital immediately where her blood pressure would have been monitored.
Through her mother, Ruby, of Foxwood, Gleneely, sued the HSE in relation to the care Ms McDaid received at the end of her pregnancy in 2006.
The case was before the court for assessment of damages only.
The €1.45m interim payment includes care for the next four years after which the case will come back to court when Ruby's needs will be further assessed.
Approving the settlement and interim payment Ms Justice Irvine said it was the first case adjourned for a period of four years and she hoped everything will go well for the family int he meantime.