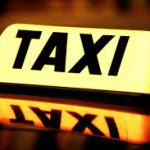 A Glasgow taxi driver who told passengers from Donegal speaking the Irish language in his car to leave the vehicle has had his licence suspended.
Alan McKinnon has been taken off the roads for a month and instructed to take a customer courtesy course after Glasgow City Council accepted he had breached several conditions of his licence.
Mr McKinnon, from Bridgeton, was accused of offloading four passengers from Co.Donegal at the side of the road at 1am just before Christmas after they objected to his demand that they stop speaking in Irish.
A complaint by the nephew of two of the passengers, brothers Anthony and Joseph Blair, was then lodged.
At yesterday's licensing committee hearing, chairman Councillor Chris Kelly asked if Mr McKinnon had a difficulty dealing with passengers.
His agent said his client had no such difficulty and that after 19 years of service, the incident was an "aberration".
One of the passengers, Joseph Blair, who is a native Irish speaker, said he didnt want to see the taxi driver lose his job, but he said he should learn from his mistake.