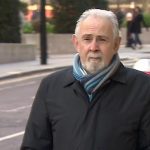 Justice Carol Hallett has been appointed to conduct an independent review of the administrative scheme for dealing with On the Runs.
The review was commissioned in the wake of the collapse of Donegal man John Downey's trial in London last month.
John Downey had been suspected of the 1982 IRA murder of four soldiers in Hyde Park, and was arrested last year despite receiving a letter from the British government saying he was not wanted by police.
British Prime Minister David Cameron ordered the judge-led inquiry last month after Northern Ireland's First Minister, Peter Robinson, had threatened to resign over the issue of guarantees issued to On the Runs.
Justice Hallett  will review the scheme for On the Runs to determine whether any letters contained errors.
She will be able to seek to interview anyone, but will not be able to compel witnesses to attend.
Evidence will not be given in public.
Her report will be ready by the end of May, and she will be able to make recommendations.
The decision not to appeal the Downey case will not be altered by this inquiry.