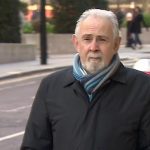 John Downey has said he remains committed to the peace process and wants to see the establishment of an international truth commission.
The 62 year old, who is based in Creeslough, had ben charged in connection with the 1982 Hyde Park bombings in which 4 soldiers died, but the case against him collapsed when a letter was produced by his legal team stating he wasn't wanted by police.
Mr Downey denies any involvement in the bombing.
Speaking to the Donegal Democrat, John Downey says he became an active member of the IRA after watc hing television images of the civil rights struggle, and was jailed for IRA membership in 1974.
However, he says war is ugly from all sides, and he became involved in the strategy when it became clear that their objectives could be achieved through peaceful means.
He says he became a persuader on the ground, and says during the course of the peace process he has shaken the hands of people he would have previously viewed as enemies.
On his arrest at Gatwick Airport in May of last year, he says he has no idea why he was detained, having received the letter in 2007 stating he was not wanted by the PSNI or any police force in the UK.
He says he had previously travelled through airports in Derry, Belfast, Birmingham and Stanstead with no difficulty.
On the political fallout from the collapse of the case against him, he rejects claims that unionists were not aware of the letters, saying the letter was thr product of a deal between the two governments.
On the media interest in a planned homecoming which was subsequently cancelled, he asks where the media were when he was working for peace and meeting former enemies to advance the process.
He concludes by backing calls for an international truth commission, saying at the end of the day, he is a republican who wants to go forward in peace and harmony with the unioinist community.