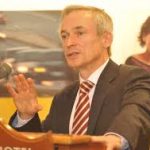 The coalition says nearly 45,000 ICT jobs will need to be filled between now and 2018.
An extra 1,250 college places a year are being made available from this year to train people with the required skills.
Almost 2000 work permits a year will be issued to those with ICT skills.
There will also be a drive to try and get Irish emigrants with the skills to return home.
Jobs Minister Richard Bruton.
"These skills are the ones that will transform not just the ICT sector – which is worth 70 billion to us – but also many, many sectors will be radically changed as ICT skills are applied in there area" he said.
"So we need to have the human resource to drive that" he added.