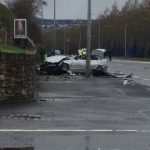 Gardai have renewed an appeal for information into a single vehicle crash in Letterkenny which left a young Lifford man in a critical condition in hospital.
23 year-old Darry McDaid was driving a silver BMW which crashed between the Polestar and Dry Arch roundabouts in the early hours of Thursday morning – he's still being treated in hospital.

Officers have found the incident on Thursday morning to be 'unusual' and are trying to establish the cause of the crash.
Just before 1am on Thursday morning  a silver BMW 3 Series ( 02 DL registration) collided with traffic signs and a telephone pole – forensic experts spent 12 hours at the scene on Thursday in a bid to establish how the crash was caused.
Part of the investigating is looking at the possibility that someone else, or another vehicle, may have been involved in the crash and then left the scene.
Gardaí want to speak any person who may have traveled on the road or observed the BMW prior to the collision to contact.
Podcast: Play in new window | Download