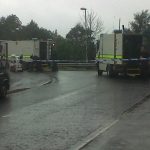 Army bomb experts have been examining the scene of an explosion that badly damaged a parked car in Derry last night.
It happened at about 1045pm outside a house in Carrickreagh Gardens in the Creggan area.
No-one was injured in the explosion.
Several homes were evacuated while the area was examined by police. The road was closed for a time but has since reopened.
Sinn Féin councillor Kevin Campbell said he believed someone had thrown an explosive device into the car….

Podcast: Play in new window | Download