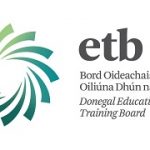 The Chief Executive of the Donegal Education and Training Board has established a Teaching and Learning Council which will have a broad remit.
Shaun Purcell says members of the council are looking at good practice in their Schools and Centres with a view to sharing these throughout the network, with an initial focus on Information and Communications Technology.
Education and Training Board CEO Shaun Purcell says the first priority of the new council is to look at the best way of integrating ICT. As resources allow, he says, structures and resources are being put in place to support this goal.
As part of the process, a number of council members and principals crossed the border to see how schools in the Western Education and Library Board area are using ICT to support teaching and learning.
Shaun Purcell says the visits to St Cecilia's College, St Columb's College, St Mary's College and Holy Cross College will forge strong relationships between both regions with a view to enhancing the quality of education.
He says more cross border opportunities will be pursued in the coming weeks and months, with more visits planned in both directions.