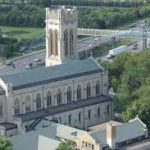 It's emerged a diocese in Minnesota is suing the diocese of Clogher, alleging it sent a priest to Minnesota knowing he was a child abuser.
Irish Central reports the New Ulm diocese has filed a lawsuit against the diocese, which encompasses parts of Monaghan, Fermanagh, Tyrone and Donegal.
The lawsuit alleges that Clogher sent a pedophile priest, Father Francis Markey, to Minnesota in 1981 without revealing his past. The lawsuit also names the the Servants of the Paraclete religious order.
The New Ulm Diocese says it never would have accepted him if it had been told about the allegations.
Markey was ordained in Ireland in 1952, but documents in several court cases show he was accused of sexually abusing numerous boys as early as the 1960s, long before he was transferred to Minnesota.
When he died in 2012, he had been due to appear in court in Monaghan for allegedly raping a 15-year-old boy in 1968 during a religious pilgrimage to Lough Derg.
While posted to Minnesota Markey is alleged to have sexually abused three boys at a rural family home in 1982 when he was posted temporarily to rural parishes. One of those men is now claiming abuse and filed charges last year.
The Diocese of Clogher has denied the allegations and says they never approved sending the priest to America.