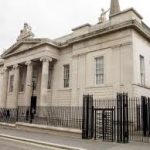 Derry Crown Court has heard how a car driven by a man from Fahan which struck a mother and her child was driven at such speed along Benone Beach that at one stage all four wheels left the ground.
Paul John Doherty (31) of Ballyholm in Fahan County Donegal had admitted dangerous driving and other offences in an incident where the mother and her four-year-old daughter were injured on the beach last July.
The court was told that on July 21 at 12.55 p.m. a BMW car was observed driving at speed on the beach.
One witness said the car was travelling so fast all four wheels were off the ground at one stage.
Another witness said that the car missed her three-year-old child by one metre.
Subsequent to that the court was told a mother was walking with her daughter by the hand and when she saw the car approaching she lifted the child only to be struck by Doherty's car which was in the process of performing a handbrake turn.
After striking the pair Doherty slowed before making of at speed from the beach.
Both injured parties were detained in hospital overnight with the child suffering a broken shoulder, a black eye and bruising and the mother sustained bruising.
The court heard he admitted driving on the beach and was clearly intoxicated.
A breath test revealed that he was twice the legal limit.
Judge Philip Babington said he wanted to consider the issues in the case and Doherty will be sentenced next Monday April 7.
Releasing Doherty on bail the judge said that should not be taken as any indication of his sentence.