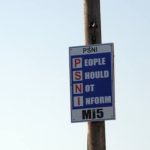 A local election candidate in Strabane has said a number of posters targeting the PSNI must be taken down immediately.
Posters stating 'PSNI – People should not inform' have appeared in the Castlederg, Aghyaran and Clady areas.
The posters have been erected in recent weeks targeting those who wish to provide the PSNI with information in relation to criminal acts.
Local election candidate for the Derg area, Marie Ash says the posters should not be there………….

Podcast: Play in new window | Download