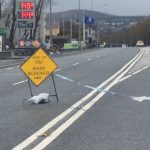 Donegal County Council officials are to liaise with gardai to come up with emergency protocols in the event of key roads being closed.
The issue was raised by Cllr Paul Canning in the wake of a collision two weeks ago today which has left a man in his 20s from Lifford criticially ill in hospital.
Following that crash between the Dry Arch and Polestar Roundabouts in Letterkenny, part of the Port Road was closed for over 12 hours, leading to gridlock, particularly on approach roads into Letterkenny. Several motorists ebnded up abandoning their cars on the side of the road and walking into town.
The council was told this week that while the council is the roads authority for Donegal, gardai are the traffic authority, and road closures are their decision alone. However, officials say they will meet gardai to review what happened on March 20th and discuss how similar situations might be avoided in the future.
Cllr Canning says radical solutions must be considered……….

Podcast: Play in new window | Download