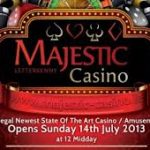 An Bord Pleanala will have to decide if planning permission to allow a Bingo Hall be formally used as a Casino will be granted or not.
Majestic Casino LTD was granted conditional permission for the change of use request by Donegal County Council but that has now been appealed.
The business, which currently operates as a casino, is located on the Port Road in Letterkenny.
This planning case has been criticised by Letterkeny Town Councillor Gerry McMonagle who had questioned why the premises continued to operate as a Casino while a change of order application had been made.
A Michael O'Neill of Solomons Hill formally opposed the application – he said the planning laws were being made a mockery of as An Bord Pleanala had refused a similar Casino development for which the council had also granted permission.
As it relates to the Magestic Casino application on the Ramelton Road – the council refused permission for the retention of advertising signage but permitted the change of use subject to a number of conditions.
Mr O'Neil has appealed that decision to An Bord Pleanala – the board is expected to make a decision by August.