It is reported today that Glenveagh National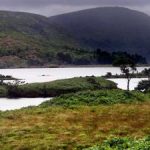 Park could eventually be run by a private company leading to job losses.
Tourism Minister Jimmy Deenihan has ordered a wide-ranging review which, it's claimed could see visitor services at the country's six national parks change.
According to the Independent Newspaper, a whistleblower inside the National Parks & Wildlife Service said Mr Deenihan's plans could lead to job losses and claimed the organisation was in 'crisis' over its alleged lack of a tourism strategy.
Donegal Deputy Pearse Doherty said staff were worried. He  added:  'this is the piece-by-piece sale of our national parks'.