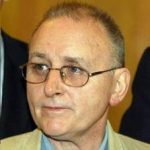 Lawyers for the family of Sinn Féin official and republican informer Denis Donaldson have said they would take legal action to secure his journal.
They warned they would act if Gardai did not hand over the diary Mr Donaldson was writing shortly before he was killed.
He was shot dead at a remote cottage near Glenties County Donegal in April 2006.
The Police Ombudsman is investigating allegations that PSNI officers may have contributed to Dennis Donaldsons death.
Mr Donaldson's family believe the journal may hold clues about what happened to him.
However, the Garda have refused to make it available to investigators.
As part of their investigation into his killing, Garda detectives removed a journal he had been writing in the weeks before his death.
His family have claimed that PSNI officers who knew about his secret life may have contributed to his exposure as an informer and his death.
They believe the journal could contain potential clues.
Police Ombudsman Michael Maguire is investigating those claims, but the Garda have refused to give him access to the journal.
They have also refused to return it to the family, despite an assurance that they would do so.
Lawyers acting for Mr Donaldson's family have now written to the Garda asking for the journal, or a copy of it, to be immediately made available to the ombudsman.
In the letter, solicitor Ciarán Shiels claimed the ombudsman's investigation was being impeded by the refusal to make the journal available.
He also said that such a refusal constituted a breach of the family's right to a fully independent investigation into the killing, as set out in the European Convention on Human Rights.
If the Garda refuse to hand it over, Mr Shiels said he would seek a judicial review in the Dublin courts.