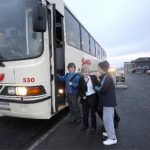 Bus Éireann has announced that it is to replace all of the School Transport Scheme bus services that were operated by Lough Swilly Bus Company in County Donegal prior to it ceasing to trade.
The company says that it plans to have the new services in place in time for the return to school on Monday morning.
Over 2,000 schoolchildren hold tickets issued by Bus Éireann for use on over 50 school bus routes and a number of public scheduled bus services formerly provided by Lough Swilly Bus Company.
Bus Éireann has asked parents and guardians of schoolgoing children using the services to ensure that their children are at the normal pick-up points in good time.
The vehicles providing the services from Monday will be contracted from local private bus operators operating on behalf of Bus Éireann. Further information is available from Bus Éireann, Stranorlar at 074-9131008.