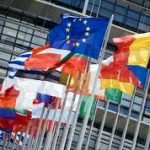 A new opinion poll has shown Sinn Féin on course to make a major breakthrough in the European elections, with sitting MEP Pat The Cope Gallagher from Donegal facing a battle to save his seat.
Sinn Fein candidate Matt Carthy looks set to top the poll in the Midlands North West constituency, with the Irish Independent / Millward Brown poll giving him 17% of the vote, ahead of Fianna Fáíl Senator Thomas Byrne on 16%, who is being tipped to take the second seat.
It appears ot be a four-way battle for the remaning two seats between sitting Fine Gael MEPs Jim Higgins and Mairead McGuinness, both of whom are on 11%, and independent candidates Marian Harkin MEP and Luke Ming Flanagan, both of whom are on 12%.
Sitting Fianna Fáil MEP Pat The Cope Gallagher is facing a serious fight to save his seat with the poll giving him 9% of the vote.
Of the other candidates, Labour's Lorraine Higgins is on 4%, Independents Ronan Mullen and Mark Fitzsimons are both on 3%, Mark Dearey of the Green Party is on 2% and Ben Gilroy of Direct Democracy Ireland is on 1%.