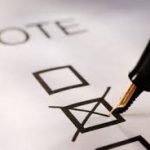 It's been confirmed that Donegal's islands will go to the polls one day ahead of the mainland in the European and Local Elections.
Voters on the six Donegal islands, which have a total electorate of 753, will cast their ballots on Thursday May 22nd, with the rest of the county voting on Friay May 23rd.
It's also been confirmed that on polling day, all paopers will be placed in the same ballot box, and on Saturday May 24th, all ballot boxes will be brought to the Aura Leisure Centre in Letterkenny, where the votes will be segregated and verified.
The European votes will then be sent to the count centre in castlebar, while votes cast in the local elections will be transferred to the individual count centres in the five electoral areas.
NOTICE OF POLL ON THE ISLANDS
 
I HEREBY GIVE NOTICE that Polling will take place on the Islands, as set out hereunder on:
THURSDAY, 22ND MAY, 2014
    
 
No. of                      Situation of Polling Station                Polling District
Polling
Station
 
166       ARAINN MHOR S. N. – ATHPORT (10.30 a.m. – 7.30p.m.)                ATHPORT – AC
(Aphort N. S.)    
 
167       ARAINN MHOR S. N. – LEADHBGARBH             ARAINN MHOR – AG
(Leabgarrow N. S.) –  (10.30 a.m. – 7.30p.m.)  
 
196       OILEAN GABHLA –Teach Seamus MacSuibhne                         AN BUN BEAG – BS          (Gola Island – House of James Sweeney) – (11.00a.m. – 3.00p.m.)  Nos. on Reg. 352-379 incl.
           
 
198       INIS BO FINNE – IONAD POBAIL  (11.00a.m. – 3.00p.m.)               INIS BO FINNE – BL
(Inishbofin Community Centre)        
 
199       INIS FRAOICH – Teach Philomena Currid (11.00a.m. – 3.00p.m.)  INISFRAOICH- BM  
(Inishfree – House of Philomena Currid)   
 
214       TORAIGH S. N. (11.00a.m. – 3.00p.m.)                        OILEAN TORAIGH – CR
(Tory Island – N. S.)
 
 
 
 
GERALDINE O'CONNOR
EUROPEAN LOCAL RETURNING OFFICER.