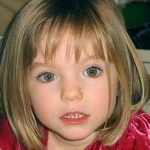 British detectives have arrived in Portugal overnight – to prepare for a new phase in the investigation into Madeleine McCann's disappearance.
Earlier this week, they were given permission to dig at sites close to where she vanished in a holiday resort in the Algarve in 2007.
Sky's Crime Correspondent Martin Brunt is in Faro.